Faces Medispa, Sculpting Beautiful Lives

You've never settled for what you were handed, and as you've gotten wiser, you've realized you can apply this to your entire life. While safe surgical cosmetic options have existed for decades, less invasive treatments have been developed to sculpt your perfect profile, soften the features, or relax away lines and wrinkles. With choices like Botox injections, and dermal fillers like Juvederm and Radiesse, you can avoid the cost, recovery, and permanence of surgical procedures.
---
Customize your Cosmetic Procedure
Bringing out your inner beauty is a personal experience, and your team of professionals at Faces are honored to be part of your journey. Helping you realize your full potential, and unearthing the confidence you deserve means taking the time to provide you with all of your options, and honest expectations about your results. Whether you're seeking a polish on your perfection or a dramatic transformation, your answer is within our walls.
Botox®
BOTOX® has been made famous for its ability to non-surgically smooth away fine lines, and to virtually turn back the clock on visible aging. It was the first FDA-approved product of its kind, and improves the appearance of:
Vertical creases (the "11" between the eyes
Crows feet
Horizontal creasing in the forehead
Wrinkling in the thin skin of the upper lip
"Bunny Lines" on the side of the nose
While we love offering the empowering, anti-aging effects to our clients, there is a whole world of possibilities BOTOX® opens up for almost anyone! BOTOX® is offered as a treatment for many issues, both cosmetic and otherwise, including:
Treatment for migraines
Injected under the arms as a permanent answer to hyperhidrosis, or excessive sweating
Remedies eye or lip twitching
Treatment for the physical retractions experienced by patients with neurological disorders like Tourette's and cerebral palsy
Incontinence treatment for patients with incompetent bladder
Creates muscular balance to treat symptoms of a lazy eye
Treats Cervical Dystonia, a condition causing neck muscles to involuntarily contract. The disorder can be incredibly painful, and BOTOX has been proven successful at releasing the contraction and restoring neck function
A consultation will assess how many units you will need to achieve your desired results, and a stress-free ten-minute procedure, during which you will receive a number of injections in the affected areas, will have you out the door and back to your day. There is no down-time or recovery needed, although some patients experience light bruising at the injection site. The effects of the procedure will come on gradually over the next few days to two weeks. Effects will commonly last between three and four months, with fewer patients experiencing results up to six months, and fewer reporting effects having worn off before three months. While results may vary, your provider may offer you insights about your own results during your initial consultation.
truSculpt® 3D

Another non-surgical thermal sculpting option, truSculpt® 3D takes body contouring full circle. Using clinical thermal therapies, truSculpt® 3D reduces adipose tissue circumferentially, creating a uniform reduction using an optimized proprietary method to target-shape your body. That means that if it doesn't say truSculpt® 3D, you won't see true results. The procedure takes a mere 20 minutes, and improvements will continue to develop for up to 12 weeks.
Kybella®

Your body has systems in place to naturally break down and absorb fat. As we age, these systems work a little more slowly, and the evidence stores itself in some of the most frustrating places. The chin, for instance. Kybella® is often referred to as "injectable liposuction", and in as little as 15-20 minutes, can target fat stored under your chin to help reclaim your youthful jawline. The first FDA-approved injectable of its kind, Kybella® utilizes a synthetic deoxycholic acid. While the name may seem intimidating, it's already produced naturally by your body. Our bodies simply produce less of it as we reach adulthood. Depending on the results our patients are after, a treatment can involve between 12 and 50 injections. For a more dramatic effect, some patients opt for additional Kybella procedures with at least one month between sessions. A maximum of six sessions per patient are allowable, and once you have achieved your desired results, they are permanent, barring any sudden or significant weight gain. While temporary mild tenderness or faint bruising can be expected at the injection site, the procedure is otherwise painless and requires no downtime. Within a few days of the procedure, you will notice some mild to moderate swelling under the chin. This is also temporary, and once the swelling subsides, you should notice an improvement in the appearance of under-chin fat deposits.
Juvederm®

For an instant boost, Juvederm has been FDA-approved since 2006, and is the most frequently requested filler available. The procedure involves careful consideration of the results each patient desires, before utilizing an injectable hyaluronic acid to subtly fill and contour around the mouth, cheeks, and lips. Address lost elasticity, deep lines, and contour the face and lips safely and semi-permanently. Effects are immediate, and last approximately two years.
Microneedling with SkinPen®

Improve the appearance of scars, stretch marks, fine lines and wrinkles, and lost elasticity with SkinPen®. The microneedling technique uses collagen induction therapy to not only improve the appearance of skin, but to activate production of healthy tissue, rich in collagen and elastin. That means your skin doesn't just look better, it truly heals. Using a safe, sanitary method, SkinPen® doesn't pose the same threat of scarring or infection as other microneedling methods, and the proprietary design insures proper angle for the ultimate precision. Healthy is beautiful.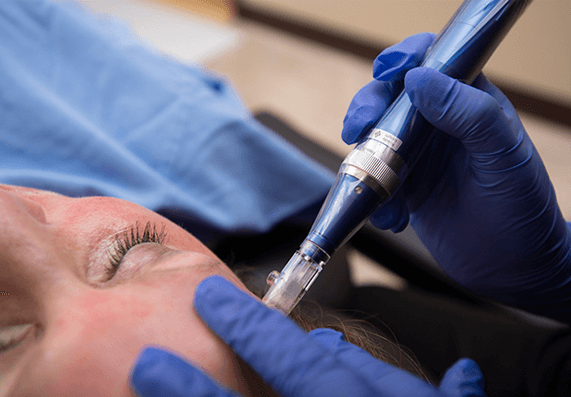 CONTACT US
Don't wait another day to look as beautiful as you feel. Our highly trained professionals provide a safe, nurturing environment to help you achieve the face, body, and life you deserve in peace and luxury. Call us at
402.384.8400
or email
info@facesspa.com